You've seen the ads before, right?
Ads that promise unparalleled health benefits from a newly discovered "superfood" that only grows in the most remote place of the world.
And now for the first time ever… you can use the extract of this superfood that has helped a society of hermit monks to live hundreds of years without any signs of cancer, diabetes, or heart disease.
While I won't deny the fact that many foods contain special molecules known to help protect against disease…
…most superfoods are not all that special or unattainable.
Most are right in front of your face and you don't even know it.
And the thyroid superfood I'm about to share with you is one of them.
It's something I learned from Dr. Raymond Peat and have been using with my clients ever since.
This thyroid superfood works to improve your thyroid health by killing the Thyroid-Adrenal Stress Cycle that's ruining your thyroid health.
And a special compound it contains has been shown to help protect against a number of chronic health conditions including…
Diabetes
Cancer
Heart disease
Alzheimer's disease
Endotoxin
Inflammation
And more…
Given all of these benefits, it begs to question…
…why do so many people go out of their way to avoid this superfood?
I'll tell you exactly what this superfood is in just a second.
First, let's take a look at why it's so good for your thyroid.
How This Thyroid Superfood Kills the Thyroid-Adrenal Stress Cycle and Boosts T3
One of the biggest problems driving your hypothyroidism is what we call the Thyroid-Adrenal Stress Cycle.
It's a vicious cycle where the more hypothyroid you become, the more you become dependent on stress hormones, while these same stress hormones further suppress your thyroid.
This creates a feedback cycle that can trap you in an endless hypothyroid state…
(Note: This is the primary factor that drives adrenal problems as I discuss in detail in this article on "Why Treating Adrenal Fatigue Is Ruining Your Thyroid.)"
This has everything to do with your ability to regulate your blood sugar (or lack thereof). When you become hypothyroid you lose the ability to regulate your blood sugar.
Your liver requires thyroid hormone (T3) to store sugar in the form of glycogen which acts like a blood sugar fuel tank.
As your body (predominantly your brain) uses the sugar in your blood to produce energy every single second of the day…
…you depend on your fuel tank (your liver) to release that stored sugar to prevent your blood sugar from dropping too low.
But for hypothyroidism sufferers, there's simply no fuel in your tank to stop this, thereby allowing your blood sugar to drop too low.
And it's primarily this continuous cycle of low blood sugar that drives this Thyroid-Adrenal Stress Cycle…
…and ultimate traps you in that endless hypothyroid state.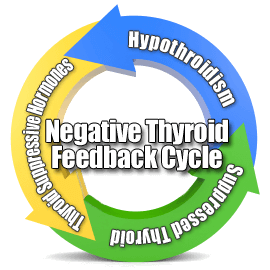 This chronic cycling of stress hormones is also responsible for blocking your liver from converting inactive thyroid hormone (T4) into activate thyroid (T3).
(Note: And it's this chronic cycling of stress hormones that can also lead to diabetes as discussed in detail in this article "Hypothyroidism and Diabetes: How to Reverse It and Why Sugar Is NOT the Problem").
So, what do you do when your fuel tank is empty and you can't store fuel, and you can't convert thyroid hormone?
The good news is that this thyroid superfood helps break this Thyroid-Adrenal Stress Cycle by helping your liver to store more sugar and preventing this continuous struggle with falling blood sugar.
In other words, we use it to help do the job your liver is supposed to be doing while your thyroid and liver heal.
And by breaking this Thyroid-Adrenal Stress Cycle it also helps to lower stress hormones which unblocks your conversion of thyroid hormone and boosts your T3.
However, many thyroid sufferers today are turning to illogical and dangerous methods for regulating blood sugar which only drives your Thyroid-Adrenal Stress Cycle even harder.
High Protein / Low-Carb Blood Sugar Disaster
Many practitioners and "experts" are recommending the use of more protein to regulate your blood sugar, and oftentimes a high-protein low-carb type diet.
Sorry to be the bearer of bad news but… this simply doesn't work.
Protein doesn't help your liver store fuel.
In fact it does the opposite…
"Since insulin lowers blood sugar as it disposes of amino acids, eating a large amount of protein without carbohydrate can cause a sharp decrease in blood sugar." – Dr. Raymond Peat
In other words, eating protein alone (without carbohydrates) simply…
Drives your blood sugar lower…
Forcing your body to over-produce more stress hormones…
And promotes insulin resistance which blocks your cells from using sugar.
Yes, these stress hormones will convert protein into sugar to bring your blood sugar back up.
That's their primary purpose. But they also suppress your thyroid by preventing your liver from converting T4 into T3.
And, by making you more insulin resistant, they block your cells ability to use blood sugar.
So, while you might think this is solving the problem, it's actually making it worse.
And that's what makes this thyroid superfood so effective.
How This Superfood Protects Against Diabetes, Cancer, Heart Disease, and More.
This thyroid superfood also has a number of other health benefits that extend far beyond protecting against stress and boosting T3.
It contains a special molecule called Naringenin, which is currently being studied for its protective effects against inflammation and various types of diseases.
It's been shown to be protective against cancer, including malignant melanoma [See Study Here], lung cancer, and prostate cancer [See Study Here].
Studies have also shown it to be protective against heart disease by increasing blood flow, preventing clotting, protecting against oxidative damage, and reduces blood pressure [See Study Here].
It's been shown to improved cognitive function and protect against Alzheimer's disease [See Study Here].
It's been shown to protect against diabetes by significantly lowering fasting blood sugar and restoring insulin levels [See Study Here], as well as preventing the inflammatory effects of high blood sugar [See Study Here].
What Is This Thyroid Superfood?
As I mentioned, this superfood is widely available (although under-utilized today).
Yet, it doesn't come close to getting the attention it deserves.
And its protective effects with diabetes are interesting because most diabetics are scared to even touch it (even though it has been shown to be an ideal food for diabetics).
This thyroid superfood is none other than… orange juice.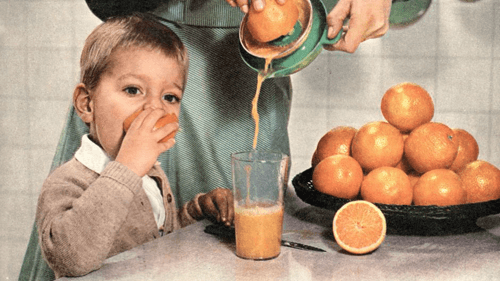 Pulp-free and not from concentrate is best because the pulp cellulose can contribute to bacterial issues in the gut.
It's something I use effectively with all of my clients.
Find orange juice too acidic? Just add a pinch of baking soda to neutralize the acidity.
While fresh squeezed oranges aren't very acidic, store bought juices oftentimes use unripe oranges that are more acidic.
And over the years, I've had maybe three clients who couldn't use orange juice, in which case we use the next best option, cherry juice.
Try sipping on small amounts of orange juice slowly throughout the day.
And for an even greater therapeutic effect, add a little salt.
Using orange juice properly can have a huge impact on your thyroid health.
But combining it with other thyroid-boosting foods can have an exponential effect.
And that's something I show you how to do in our 3 Food Triple-Thyroid-Boosting Daily Protocol.
If you're not using this daily protocol then download it right now and get started today.
See for yourself the difference it can make while feeling calm, clear, and full of energy.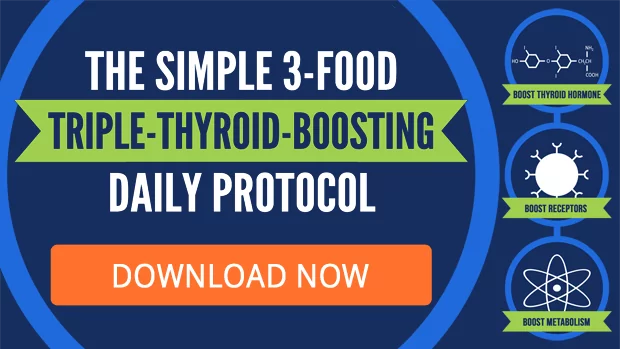 Click here to download the 3 Food Triple-Thyroid-Boosting Daily Protocol for free right now.