It's a question I get asked almost every single day…
"How can I get off my thyroid medication?"
While your doctor and the manufacturer of your thyroid medication will likely tell you that it's impossible, there's some interesting research that says otherwise.
The answer for some may be as simple as… "light".
The problem however is that sometimes research like this can be very difficult to understand.
Not because it's necessarily complicated… but because it's not always available in English.
Yet, we have Vladimir Heiskanen to thank for bringing "light" to this research (pun intended).
Vladimir was kind enough to send me an article he wrote on light therapy for hypothyroidism which presented some very promising results.
So, I wanted to share some of his findings with you and how you can use this to help heal your own thyroid issues.
And just to be clear, we're not talking about slight improvements in thyroid function.
Multiple studies out of Brazil showed that this light therapy not only reduced the need for thyroid medication in all patients…
…it also showed that
47% of patients no longer required any thyroid medication even 9 months later, when the study concluded.
Along with a 39% to 49% decreased in TPOAb (anti-thyroid antibodies) among those with Hashimoto's thyroiditis.
And get this…
A Russian study demonstrated a 97% success rate when treating subclinical hypothyroid women.
Their baseline TSH averaged at 9.1 mIU/L, but after ten sessions of LLLT, the TSH was normalized in 337 (97%) of these women. Their TSH averaged at 2.2 mIU/L after the LLLT treatments.
These results were so impressive that according to Russian Researchers…
In our opinion, it [LLLT] is the method of choice in the treatment of [subclinical hypothyroidism], especially in the elderly."
What Is LLLT and How Does It Work?
LLLT stands for "low level laser (light) therapy".
Specifically it focuses on the therapeutic properties of red to near infrared light.
Maybe you've seen the infomercials with those red light devices claiming to improve your mood, take away all of your aches and pains, cure your acne, or even help you re-grow your hair…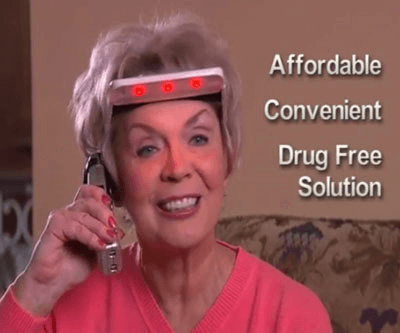 Well, all those claims are based on the therapeutic benefits of LLLT.
But please don't go out and buy one of these cheap devices.
They are most likely poor quality and not designed accurately enough to provide much if any results.
With that being said, LLLT is scientifically proven to do all of these things and more.
However, real and effective LLLT devices as used for medical therapy typically cost in the range of thousands of dollars, making them unaffordable to most individuals.
But don't worry…
You can get some of the same benefits that will only set you back $10 to $20 (I'll explain in a minute).
The important thing to understand is that LLLT works by activating a very important enzyme known as "cytochrome c oxidase"… which plays a crucial role in healthy metabolism and energy production.
(Note: Activating "cytochrome c oxidase" is also something that we do in Step 5 of this article on "How We Overcome Hypothyroidism When All Else Fails".)
In fact, as Dr. Raymond Peat points out, this is one of the same mechanisms that T3 (thyroid hormone) works to help stimulate healthy metabolism.
In other words, one of the reasons that light therapy has been proven as an effective treatment for hypothyroidism (and potential replacement for thyroid medication) is because it activates this important enzyme, the same way thyroid hormone does.
But also as Dr. Raymond Peat points out, there are many factors today that tend to de-activate this important enzyme… such as dietary PUFAs (polyunsaturated fats), excessive stress, estrogen dominance, low thyroid function, lack of light, copper deficiency, etc.
So, how can you benefit from this?
The Truth Is You Don't Really Need a Fancy Laser
As Vladimir points out… so much of the light therapy research these days is focused on the use of laser light.
Most likely because laser light can be easily adjusted, which allows researchers to test specific parameters of the light very easily.
Now, less expensive devices using LED lights are becoming more widely used.
But even inexpensive higher powered incandescent light bulbs can provide many of the same therapeutic benefits.
In fact, we use this with clients all the time and it doesn't have to be expensive at all.
You can get the all the parts you need at your local hardware store including bulbs and inexpensive reflectors to make a simple homemade lamp.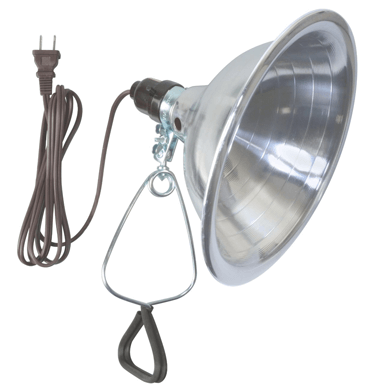 The key is to expose the light directly to your skin to activate the cytochrome c oxidase enzyme, making sure to get exposure to your thyroid and chest.
Starting with as little as 15 minutes daily can provide positive results.
(Note: We are NOT recommending this as a replacement for your thyroid medication as it isn't as strong or directed as LLLT. But we still highly recommend it for its therapeutic benefits.)
The Bottom Line: Why You Need Light Therapy
If you work indoors, away from windows, and with little exposure to sunlight then light therapy can help protect against light deficiency and hypothyroidism.
If you work the night-shift then this can become extremely important.
But even as we're approaching winter time in the northern hemisphere, days are beginning to shorten, which naturally reduces our light exposure.
And it's the reason why so many hypothyroidism sufferers experiencing a worsening of symptoms during the winter months.
All of these are reasons why using light therapy can become extremely important for protecting your thyroid.
Want to build your own light therapy lamp for less than $20?
Here are the detailed instructions on how we use it with our clients and how you can use it too: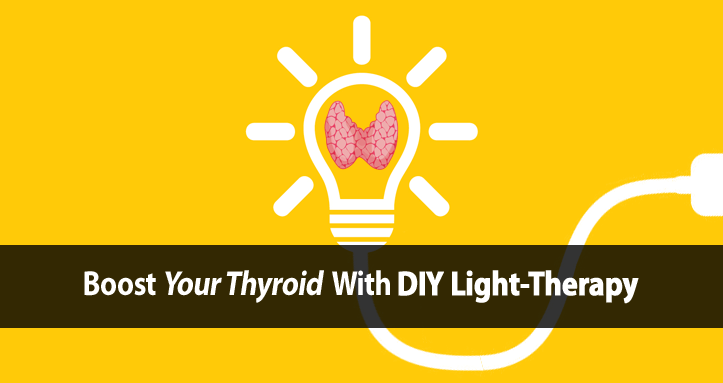 How to Build Your Own Thyroid-Boosting Light Therapy Lamp
So tell me…
Have you used light therapy?
If so, leave a comment and let us know you're experience.