Who says you can't have your cake and eat it too?
Yes, you can use desserts as part of a very healthy thyroid diet.
In fact, with my clients, I highly encourage it.
The real problem is that desserts and sweets are very misunderstood today.
Foods like chocolate and fruit can be very therapeutic and help boost thyroid function in a number of ways.
You might not know this, but during World War II some concentration camp victims were allowed to bring one thing from home with them.
And of all things, some chose a piece of chocolate.
Not because they were craving something sweet.
They kept it with them in case they became too weak to carry on because they knew the therapeutic effects could keep them alive longer.
Today, I have clients come to me who are deathly afraid of fruit because they've been told it will make them diabetic.
Yet, research shows that fruit protects you against diabetes.
In fact, sugar isn't the cause of diabetes at all as I've covered in this article "Hypothyroidism and Diabetes: How to Reverse It and Why Sugar Is NOT the Problem".
On the other hand, avoiding carbohydrates is known to cause hypothyroidism and increase your risk of diabetes.
Desserts and sweets can actually be very important.
Why?
Because research continues to show that they suppress your body's stress response.
The same stress response that's ruining your thyroid health as we speak.
Take this study for example…
Sucrose ingestion normalizes central expression of corticotropin-releasing-factor messenger ribonucleic acid and energy balance in adrenalectomized rats: a glucocorticoid-metabolic-brain axis?

http://www.ncbi.nlm.nih.gov/pubmed/11415998

"Voluntary ingestion of sucrose restores CRF and dopamine-beta-hydroxylase messenger RNA expression in brain, food intake, and caloric efficiency and fat deposition, circulating triglyceride, leptin, and insulin to normal."
Now this doesn't mean that you have the green light to over-consume dessert.
Over-consumption of anything isn't healthy.
So, needless to say, more isn't always better.
However, as we teach our clients to use sweets and desserts to help improve their thyroid health, you can too.
And you can get started yourself with these five thyroid boosting desserts.
Please note: All of these desserts are gluten-free and more importantly thyroid-friendly.
1. Chocolate Oblivion Truffle Torte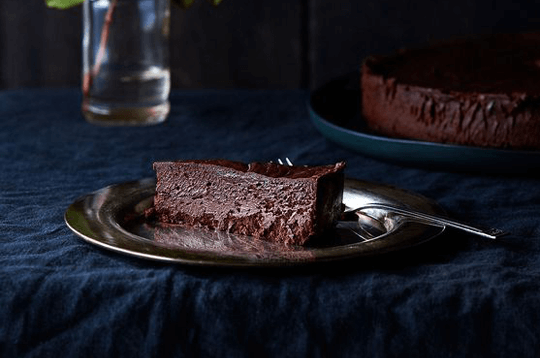 Chocolate Oblivion Truffle Torte

Source: http://food52.com

Ingredients:

1 pound (454 grams) bittersweet chocolate (fine quality that you love eating, no higher than 62%)
1/2 pound (2 sticks, or 227 grams) unsalted butter, room temperature
6 large eggs (300 grams, out of the shell), room temperature if possible
Equipment: One 8-inch spring form pan at least 2 1/2 inches high, buttered, and bottom lined with buttered parchment; outside of pan wrapped with a double layer of heavy-duty foil. One 10-inch cake pan or roasting pan to serve as a water bath

Instructions:

Preheat the oven to 425° F.
In a large heat-proof bowl set over a pan of hot, not simmering water (do not allow the bottom of the bowl to touch the water) place the chocolate and butter and allow it to stand, stirring occasionally, until smooth and melted. (You can also use a microwave on higher power, stirring every 20 seconds.)
In a large mixer bowl, set over a pan of simmering water, heat the eggs, stirring constantly with a wire whisk, until just warm to the touch. Immediately remove the bowl to the stand mixer and with the whisk attachment on high speed, beat about 5 minutes, until triple in volume and the eggs are billowy and lighter in color. (If using a handheld electric mixer, beat the eggs over simmering water until they are hot. Then remove them from the heat and beat for about 5 minutes or until cold.)
Use as large wire whisk or rubber spatula to fold half the eggs into the chocolate mixture until almost evenly incorporated. Fold in the remaining eggs until almost no streaks remain. Use a rubber spatula to finish folding, scraping up the mixture from the bottom to ensure that all the heavier chocolate mixture gets incorporated.
Scrape the mixture into the prepared pan and set it in the larger pan. Place it in the oven and surround it with 1 inch of hot water. Bake for 5 minutes. Cover it loosely with a sheet of buttered foil and bake another 10 minutes. (It will wobble when moved.) Remove the cake pan from the water bath and allow it to cool for about 45 minutes. Cover tightly with plastic wrap and refrigerate it until very firm, at least 3 hours.
Unmold the cake: Have ready a serving plate that has at least an 8-inch flat center portion and an 8-inch or large flat loose bottom of a tart pan or plate, covered with greased plastic wrap.
Use a torch, hair drier, or a hot damp towel to wipe the sides of the pan.
Run a thin metal spatula around the sides of the torte and release the sides of the springform pan. Place the plastic-wrapped plate on top and invert the torte onto it. Heat the bottom of the pan and remove it. Peel off the parchment and re-invert the torte onto the serving plate.
Serve: It is most moussey and delicious at room temperature. Cut the torte, using a thin-bladed knife dipped in hot water between each slice. Accompany with raspberry sauce and fresh raspberries and whipped cream if desired.
What We Like About This Thyroid-Boosting Dessert:
Don't be distracted with the level of detail in the recipe instructions. It's very simple and easy to make.
I'm having a piece as I write this and I can tell you that unless you dislike chocolate, you can't go wrong with this recipe.
For starters, it contains only three ingredients, all of which are therapeutic.
Chocolate is very metabolically stimulating and rich in copper which has many therapeutic effects.
Its highly saturated fat helps protect against thyroid suppressive polyunsaturated fatty acids.
Chocolate contains caffeine, which has been shown to have actions similar to thyroid hormone (T3) and it promotes progesterone production which can also help to normalize the thyroid gland.
Butter being rich in butyric-acid helps increase thyroid hormone cell receptors.
And eggs provide a significant source of plenty of vitamins and nutrients.
It's best to find a source of chocolate made WITHOUT soy-lecithin or other emulsifiers. Soy-lecithin has been shown to be strongly estrogenic, which can directly suppress your thyroid gland, the conversion of thyroid hormone at your liver, and your metabolism.
While you probably don't want to eat these thyroid-boosting desserts every single day, I've got a special thyroid-boosting protocol that you should be using daily.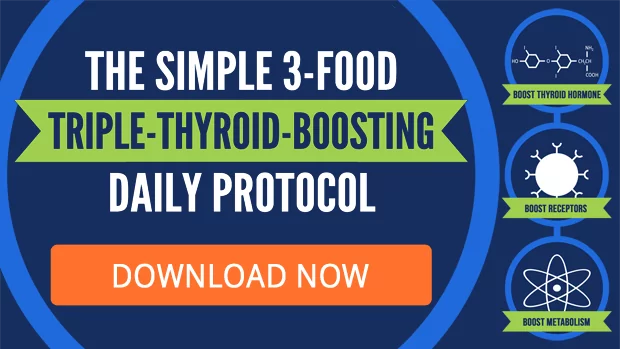 You can download this 3 Food Triple Thyroid-Boosting Protocol here.
2. Ricotta Mousse with Balsamic-Pepper Cherries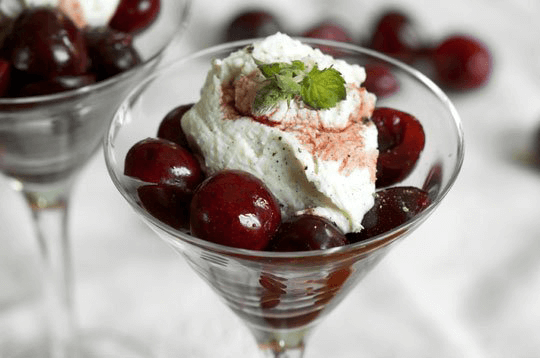 Ricotta Mousse with Balsamic-Pepper Cherries

Source: http://www.thekitchn.com/

Ingredients:

1/2 cup (4 ounces) goat ricotta
1 tablespoon honey
1/2 vanilla bean, split and scraped
1 1/2 cups sweet cherries
1 1/2 teaspoons balsamic vinegar
3 black peppercorns, crushed (about 1/16 teaspoon ground)
Fresh mint leaves (optional)

Instructions:

Place the ricotta, honey, and vanilla bean in the small bowl of a food processor and process until smooth. Cover and refrigerate 1 hour.
Meanwhile, halve and pit the cherries. Place in a small bowl with the balsamic vinegar and pepper and stir to combine. Cover and refrigerate.
To serve, divide the cherry mixture between two glasses or bowls and top with the ricotta mousse. Garnish with mint and a light dusting of black pepper, if desired.
What We Like About This Thyroid Boosting Dessert:
Ricotta is a very safe cheese that is high in protein and calcium.
Adequate protein is necessary for both thyroid and liver function. Calcium is an important regulator of both inflammation and parathyroid hormone.
It's important that you use ricotta cheese without added gums, carrageenan, or preservatives. Homemade ricotta is oftentimes ideal and very easy to make.
Cherries are very safe form of fruit which along with honey will help to regulate blood sugar and improve glycogen storage in the liver.
(Note: I walk you three simple ways to improve your thyroid health by first addressing your liver in this article "How to Heal Your Thyroid By Healing Your Liver").
3. All Natural Baked Apples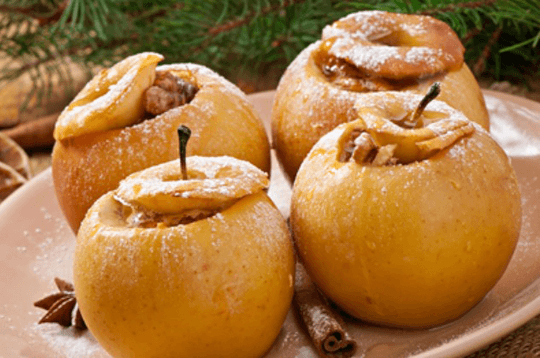 All Natural Baked Apples

Source: http://butternutrition.com

Ingredients:

2-3 medium apples
2 tbsp butter
1.5 cups unprocessed, additive free apple juice, divided
½ tsp cinnamon
½ tsp lemon juice
3 dates, chopped

Instructions:

Core apples from the top, being careful not to puncture the bottom, set aside.
In a saucepan, reduce 1 cup of apple juice for 20-30 minutes over medium-low heat until it has reduced to about 2 tablespoons.
Add butter, cinnamon & lemon juice to the saucepan. Allow butter to melt, stir and remove from heat.
Stir in chopped dates and poor into the center of the apples. Use the remaining 1/2 cup of apple juice in the bottom of your baking pan.
Cook baked apples at 350 degrees for about 50-60 minutes until soft, or peel starts to break.
What We Like About This Thyroid Boosting Dessert:
Cooked apples and dates are two other very safe forms of fruit that can help regulate blood sugar and improve glycogen storage in the liver, which is important for the conversion of T4 into the active T3 thyroid hormone your cells need.
If you have digestive issues, it's best to peel the dates first.
Butter being rich in butyric-acid helps increase thyroid hormone cell receptors.
4. Greek Yogurt Chocolate Mousse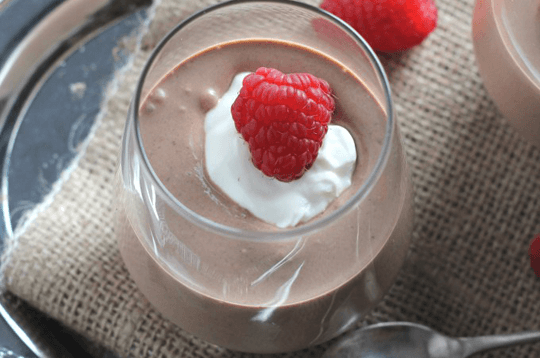 Greek Yogurt Chocolate Mousse

Source: http://www.myfussyeater.com

Ingredients:

240ml / 1 cup milk
100g dark chocolate
500ml / 2 cups greek yogurt
1 tbsp honey or maple syrup
½ tsp vanilla extract

Instructions:

Pour the milk into a saucepan and add the chocolate, either grated or very finely chopped or shaved. Gently heat the milk until the chocolate melts, being careful not to let it boil. Once the chocolate and milk have fully combined, add the honey and vanilla extract and mix well.
Spoon the greek yogurt into a large bowl and pour the chocolate mixture on top. Mix together well before transferring to individual bowls, ramekins or glasses.
Chill in the fridge for 2 hours. Serve with a small spoonful of greek yogurt and some fresh raspberries.
The chocolate mousse will keep in the fridge for 2 days.
What We Like About This Thyroid Boosting Dessert:
As mentioned previously, chocolate is a great source of copper, saturated fat, and caffeine, all of which provide significant therapeutic metabolic effects.
This recipe is also another good source of calcium, which is essential for proper thyroid function.
While we don't recommend most yogurts due to the high levels of lactic acid which can significantly burden the liver, Greek yogurt is strained removing most of the lactic acid making it safe.
5. Healthy Jello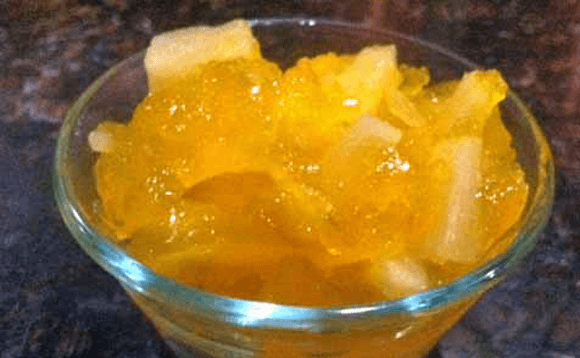 Healthy Jello

Source: http://wellnessmama.com

Ingredients:

1½ cups of organic or freshly juiced fruit juice of choice (grape, pineapple, orange or a mix of orange and pineapple are all good!)
¼ cup cool water
¼ cup hot (almost boiling) water
1 tablespoon of high quality cooking gelatin
1-2 cups of fresh fruit (optional) – Pineapple, strawberries, blueberries and orange slices are all really good
Note: Can double recipe.

Instructions:

Pour the cool water in a large mixing cup or quart sized mason jar and add the gelatin powder.
Stir briskly until mixed- it will start to thicken a lot.
Add the ¼ cup of really hot water and stir to mix- it should be thinner now.
Combine this with the juice and mix well.
Put the fruit into the container that you are going to make the jello in. 8×8 baking dishes work well.
Pour the jello mixture over the fruit and stir lightly to make sure it has coated the fruit too.
Put in the fridge, covered, for at least 2-3 hours or overnight and serve.
Can cut into cubes or scoop out with a melon spoon to make cute shapes.
What We Like About This Thyroid Boosting Dessert:
The benefits of this recipe come from both the fruit and the gelatin.
Hypothyroidism sufferers innately struggle to regulate blood sugar due to glycogen depletion.
And as mentioned previously, many fruits are helpful with regulating blood sugar and improving glycogen storage in the liver.
However, the biggest benefit from this dessert comes from the gelatin.
Gelatin is extremely anti-inflammatory and helps promote the production of thyroid hormone by your thyroid gland.
It also helps play an important role in blood sugar regulation, promotes natural sleep, reduces stress, protects your brain, and can help protect you from diabetes.
Make sure you use a high quality source of cooking gelatin and we would recommend using orange juice instead of pineapple juice.
So, there you have it.
You can't go wrong with any one of these five thyroid boosting desserts.
Who says you can't have your cake and eat it too?
You and your thyroid can thank me later.
While you probably don't want to eat these thyroid-boosting desserts every single day, I've got a special thyroid-boosting protocol that you should be using daily.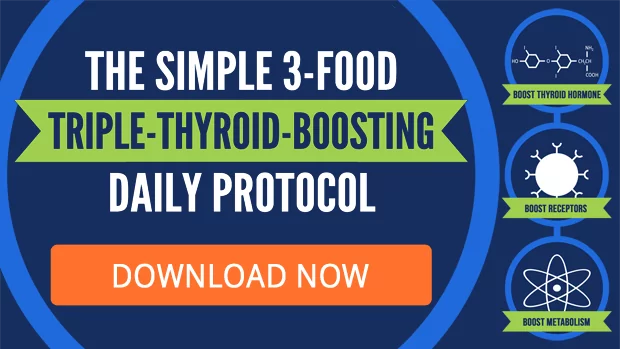 You can download this 3 Food Triple Thyroid-Boosting Protocol here.